Kentico positions itself as a feature-complete platform for digital experiences, a jack of all trades solution for organisations that need an enterprise product at a more affordable entry point than alternatives such as Sitecore or Adobe's offering.
It's not well known for eCommerce and most etailers would look at Magento or BigCommerce first. What most people don't know is that Kentico's eCommerce functions have matured quickly with the latest two versions, and can be boosted by third-party solutions such as Ucommerce. Under the hood, the .NET framework allows developers to build bespoke functions.
Let's have a look at some of Kentico's key eCommerce features:
Custom product types, variants and options
Downloadable products
Discounts and product bundles
eCommerce Business API
Shipping calculations
Tax calculations
Multiple currencies
Learn more about Kentico's eCommerce features here and if you have requirements for multiple stores, languages and price points look at Ucommerce too.
Kentico's eCommerce advantage isn't… e-commerce
Building an eCommerce store is half the battle — you need people to find it and buy. They need to be delighted by a great experience that goes beyond the design and usual conversion optimisation tactics.
Marketers can leverage powerful tools out of the box, including email marketing, marketing automation and content personalisation. These are the ingredients they need to deliver what converts more: the right messages to the right people and the right time.
Here is what Kentico can achieve in terms of personalisation, verbatim from their website:
Kentico comes with a Content Personalization functionality that delivers the right content to the right person at the right time, based on individual browsing history. Analyzed factors include:
Demographics – address, age, job title, gender, etc.
Behavior – visited pages, downloaded content, purchased products, campaign clicks, searched keywords, etc.
Customer context – purchase stage, location, time of the day, used browser or device, etc.
Read more about conent personalisation on Kentico's website.
Make your IT Manager happy with an all-in-one platform
One of Kentico's USPs is that it offers a comprehensive set of features that are built on an extendable framework. If you can tick all your requirements off with one platform you'll avoid having to use a second one, and intergrate them. This reduces cost, complexity and the number of moving parts that go wrong.
Kentico: Power to the People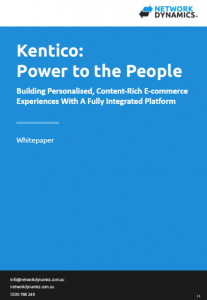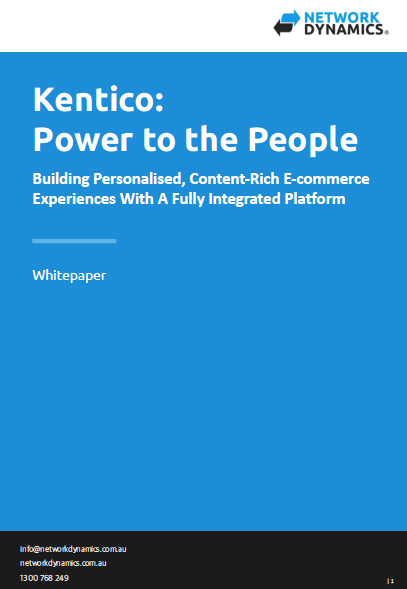 We've published a white paper titled Kentico: Power to the People, that covers the factors behind e-commerce experiences that help bring customers back again and again, as well as the tech to build those experiences.
This includes the need for speed as slow customer experiences increase drop off rates and impact brand negatively – folk will warn their peers to avoid a website altogether.
Download the white paper here.
If you're considering Kentico for your business' website and /or e-commerce store have a look at our Kentico Hosting packages that have been designed specifically for the platform and with security and performance in mind.