WANT TO GET OUT OF WEB HOSTING?
Typically we see three types of people interested in selling their web hosting business to us:
Web Hosting Company Owners – They have worked hard to build a web hosting business and it's time to reap the financial benefits. They want a good price but also to make sure that their loyal customers will be looked after. They appreciate the complexities of such a move and want to deal with industry pros during the transition phase.
Agency Owners – Spending too much time supporting their web hosting products and want to focus on their core offerings instead, looking to a provider they can trust and that will take good care of their customers.
www.freemoviexxx.ccwww.freemoviexxx.ccwww.freemoviexxx.cc
Resellers – They have done the maths and realised that there are better opportunities outside of hosting, and are looking to earn a final lump sum as part of their exit strategy.
Whether you have a handful of customers or thousands we can help you make the processes quick and painless:
We'll migrate client accounts
We'll handle communication and support during the transition
Continuity: we'll plan for no or minimal downtime
We'll give you a fair price
Your customers will be assured that they are moving to an established provider that offers enterprise-grade tech and local support — the last thing you want to do is offload them to a provider that will not meet their expectations.
About Network Dynamics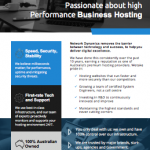 We have been in the web hosting business for more than ten years and clients include Harvey Norman, Domain and RMIT, as well as thousands of SMEs and agencies.
We are based in Melbourne and don't offshore any aspects of our operations.
Download our Brochure (PDF)
Get in touch
Complete the form to provide us with some key information and we'll get back to you to arrange a call to discuss options.
If you prefer to call our phone number is 1300 768 249.